Welcome to the Roman Catholic Community of Saint Joseph in North Plainfield, New Jersey
We are the Roman Catholic Community of Saint Joseph North Plainfield. Our mission is to worship God through the liturgy, forever mindful that Jesus is our daily bread. We strive to serve, inspire, and evangelize the People of God, upholding the sanctity of every human person and welcoming all into our diverse family.
The month of OCTOBER is dedicated to the Rosary, a collection of prayers and mediation on the life of Jesus and his mother, Mary.
Pope Francis proclaims 2021 "YEAR OF ST. JOSEPH"!
Watch our website, Facebook page, and parish bulletin for news on how we will celebrate this wonderful year of our Patron!
A Prayer to St. Joseph
Hail, Guardian of the Redeemer,
Spouse of the Blessed Virgin Mary.
To you God entrusted his only Son;
in you Mary placed her trust;
with you Christ became man.
Blessed Joseph, to us too,
show yourself a father
and guide us in the path of life.
Obtain for us grace, mercy, and courage,
and defend us from every evil.  Amen.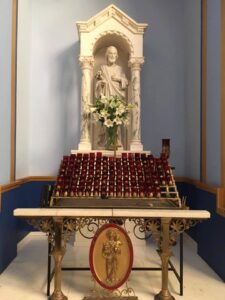 For more info on the Corona Virus (available in many languages), please see:
Covid Info from NJ Department of Health