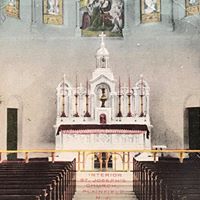 April 1882—St. Joseph Church established by Bishop Michael O'Farrell of the new Trenton Diocese, taken from what was originally the Diocese of New York and Philadelphia. Our first pastor was Rev. John F. Brady.
September 24, 1882-Rev. Thomas O'Hanlon, our second pastor, purchased the lot on Manning Avenue and a cornerstone was laid for our new church home.
1888-Rev. Nicholas Freeman succeeded Fr. O'Hanlon as pastor.
1890-Fr. James McKernan takes over as pastor and much of the work on our beautiful interior is completed.
1907-Pastor Rev. William Miller holds great silver jubilee for the parish.
April 28, 1912—Rev. Miller celebrates dedication of our current church building. He is succeeded by Rev Peter Hart and Rev P.J. Clune.
June 15, 1930—Fr. W.A. Gilfillan is pastor when St. Joseph School is dedicated.
1934-Rev. Thomas A. Campbell becomes pastor, and would remain here for 30 years. During that time, he liquidated the debt from the building projects and purchased the convent building.  He is also responsible for much of the artwork found in the church.
1964-1967—Rev. Walter J. Slattery remodeled the school and built the rectory.
1968-1975–Monsignor Charles E. McGee served as pastor.
August 22, 1975—Rev. William J. Haughney, became pastor.  Marian Shrine was erected, parking lot was further extended, a new side door and ramp provided, the sanctuary revamped and re-carpeted, a new concrete floor for the parish hall, three garages erected, fencing and paving for school yard and repainting of the exterior and interior of our lovely parish church.
Later pastors: Fr. Terrance Lawler, Fr. Andrew Cogan and Fr. John (Jack) J. Casey
June 19, 2007–Father George Farrell was appointed as administrator by Bishop Paul Bootkoski.
June 2008—Final graduating class of St. Joseph School. Convent converted into meeting rooms for parish groups and children's religious formation classes and office space. 45-seat chapel renovated and used for daily Mass and other events.
July 31, 2008—Fr. George Farrell appointed pastor.
July 1, 2021 – Fr. Wojciech Kusek, CSsR was appointed as administrator by Bishop James F. Checchio
July 6, 2022 – Fr. Mauricio Tabera-Vasquez was appointed administrator.